ARES/STAR M4 FF CQB (COLT TRADES): 280 USD LOWERED TO 250 SOLD
QUICK SPRING CHANGE CAPABILITY. ITS GONNA COME WITH EXTRA LOWER RECIEVER (ARES LOGO)
THIS IS READY FOR CQB
QUESTIONS: ASK ME
PRICE BREAK DOWN
GUN (COLT TRADES) 302.00
http://www.wgcshop.com/wgc2008/main/product_detail1.php?search_From=category&item=ARES-AEG-30&search=special&rs=ares
AEGs&catid=6&cat=437
MAGPUL FOLDING SIGHT 90.00
MAGPUL MIAD GRIP 60.00
G&P KAC TRIGGER GUARD 22.00
I'LL STOP THERE BUT THE TOTAL IS ALREADY 474.00 USD. ONLY ASKING 250 OBO SOLD
PICS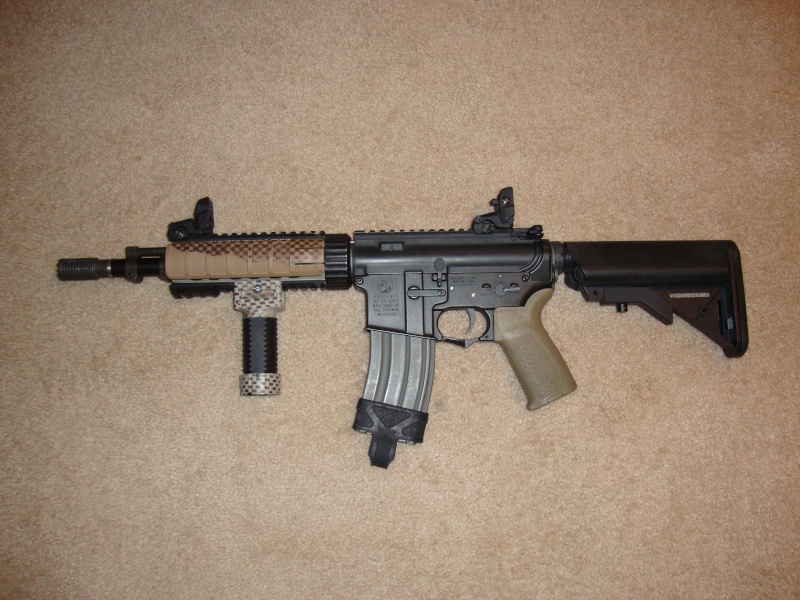 I ALSO HAVE MASADA SHELL ALL U NEED IS A COMPLETE GEARBOX, MOTOR AND A G&G SR25 NOZZLE
COMES WITH BOTH 11.5 (COMPLETE WITH PROMY 6.03 TBB) AND 14.5 QD BARREL
THIS IS A VERY NICE KIT IF U HAVE AN M4 AND WANNA CONVERT IT TO THE MASADA. YOU CANT BUY THIS ANYWHERE ANYMORE.
PRICE: 250.00 LOWERED TO 200 OBO
REAR SIGHT, FLASH HIDER, SILENCER, AFG, RAIL AND MAG NOT INCLUDED
ARES SOLD.....MASADA SHELL STILL UP FOR SALE
I can pick up a brand new A&K Masada with trades for $260 on ASGI after the 10% discount code. It's in stock at several other places too, including Air Splat. The only one that you can't buy anymore is the G&P one. See as an example:
http://www.airsoftgi.com/product_info.php?products_id=6045
Would you take $100 for it?
Private




Posts

: 4


Join date

: 2011-01-20



im sorry i forgot to update this post. it was sold for 100. please delete this entire post. thanks


Similar topics
---
Permissions in this forum:
You
cannot
reply to topics in this forum