Hey guys, since I picked up a PTW, I'm letting go of my KWA M4 custom (shoots just under 400). I bought this gun a few years back, and over time I have upgraded just about everything. The only thing that is stock in this gun is the outer body and the hop up unit. It has a prometheus 6.03 tightbore that runs the entire length of the outer barrel. Also has a Magpul PTS Ergo Grip. Most of the internal work was done by Cesar and Mack. (Many thanks to both of them for working on my guns). The gearbox has been changed to a Matrix M120 gearbox (was re-shimmed by Cesar). Also, Cesar installed the Airsoft Systems Smart Control Unit to give this gun the ultimate edge. The Smart Control Unit gives an AEG that PTW-like trigger response. Also, gives you the option for semi, 3 shot, and full auto fire modes. It eliminates trigger short-stroking, eliminates gearbox lockups, and gives the option of running a high-voltage battery (more options is always better). I had a problem with the Matrix Magnum motor so Mack switched it out for a new high-torque motor. It has a Star crane stock and buffer tube, which allows for the large type crane stock batteries to be used. I don't have the foregrip in the picture anymore. I have on it now a Tango Down stubby vertical foregrip. Comes with one Intellect 9.6v 3600mah large type crane stock battery. (I have one more for seperate purchase). Comes with 8 G&P 120rd mid-cap magazine. The gun does not come with the flip-up rear sight, flashlight mount on barrel, or flash hider. $500 takes it.
Stock gun - $260
Smart Control Unit - $100
Matrix M120 Gearbox - $110
Motor - $40
Prometheus 6.03 Inner Barrel - $60
Star Large Crane Stock & Battery - $150
Magpul PTS Ergo Grip - $35
8x G&P 130 round mid-cap mags - &160
All in all an $815 package. If you have seen this gun, you know that it is a prize.
The pictures were taken just after I painted it so the paint is worn more than the pictures. If you would like I can repaint it or if you're like me, I prefer the worn look.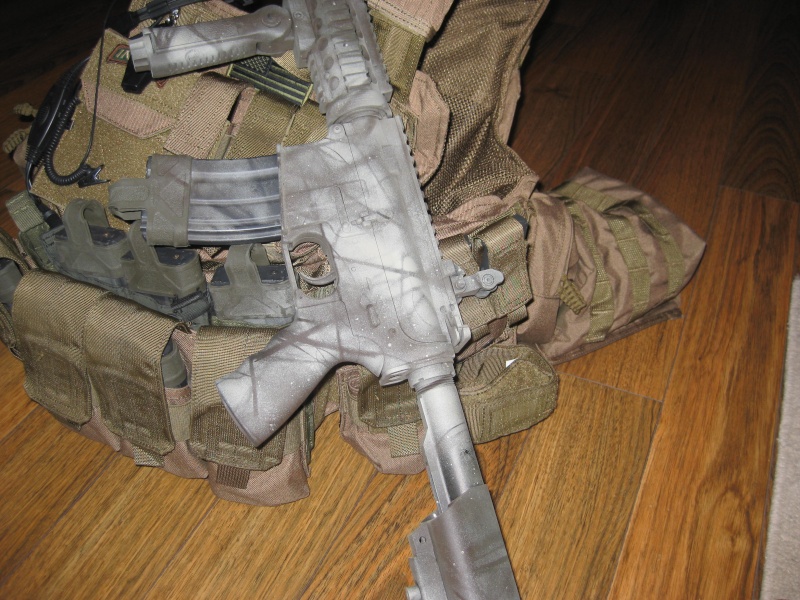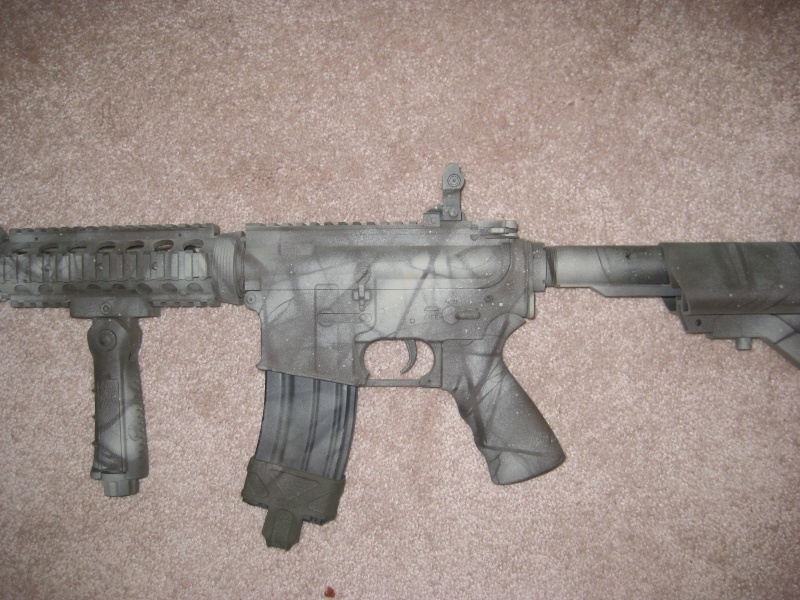 You can check out the video from Redwolf about the Smart Control Unit if you want:
https://www.youtube.com/watch?v=IRtZ4SmwTmQ&feature=player_embedded
Make me an offer, guys. I've got my eye on something else.
dude, i would LOOOOVE to make an offer but i cant right now, mah family is broke right now wince we just moved... to oklahoma... so as tempting and as much as i want that gun, cant
Sgt





Posts

: 120


Join date

: 2010-10-01


Age

: 22



Who painted it thats amazing looking.
Private




Posts

: 4


Join date

: 2011-07-06



Sorry, didn't realize anything was posted on this. I painted it myself.


Similar topics
---
Permissions in this forum:
You
cannot
reply to topics in this forum